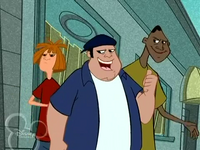 The Altos are a group of male bullies. Their names are Punch, Slapmaster, and Stomp.
Sticky Webb joined The Altos while upset and acting out during his parents's divorce; it was with his help that they were able to cheat in the Wizard Kelly Scavenger Hunt. Sticky eventually ratted on them so they attempted to beat him up but were stopped by Oscar, Trudy, Penny, Dijonay Jones, Zoey Howzer, LaCienega Boulevardez, Gross Sisters, "Suga Mama" Proud and pals.
They were later forced to eat Proud Wnacks as punishment.
Notes
References